Let's make this New Year count!
The best way to welcome the New Year is with an exquisite dinner, fantastic festivities with a live band, warm service, party favors and the best location for a front row view of the fireworks lighting up Aruba at midnight.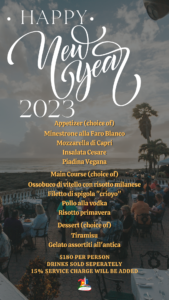 ✻
or
✻
Please note that the festivities start at 6:00PM and the latest reservation time available is 8:30PM.
The firework show starts right as the clock strikes midnight.
A credit card is required when reserving a table for this night. If a reservation is canceled any time prior to December 29th your card will not be charged. A $60 per person charge will be applied if cancelled on December 30th. In the case of a no show without notice, we will charge your card $85 per person.
We look forward to ring in the New Year with you!
✻